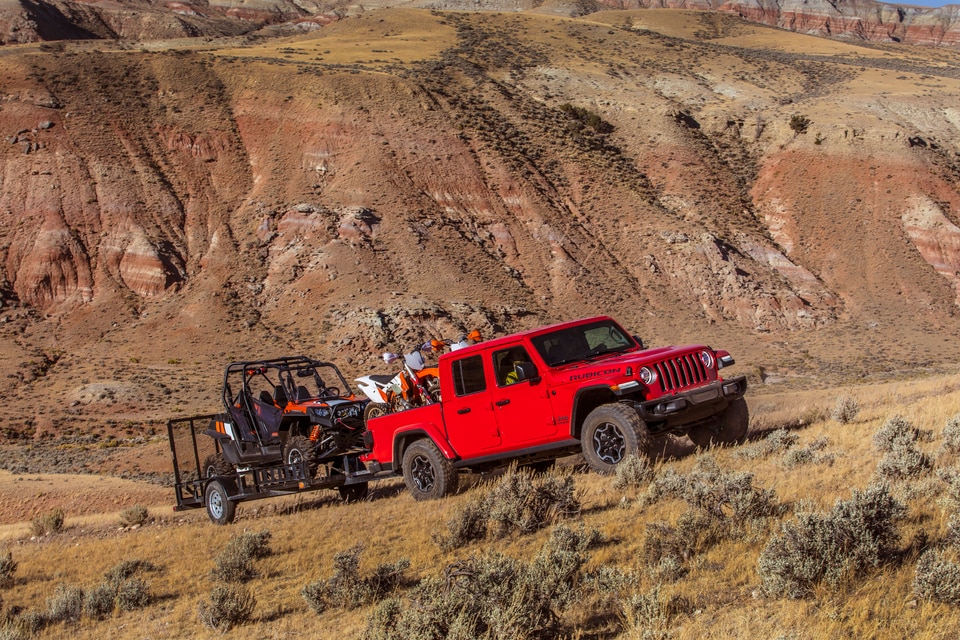 Built from the ground up the 2020 Jeep Gladiator is a standout, midsized truck. This truck has been designed with careful attention to detail. Its rugged styling mimics that of a Jeep Wrangler with the bed of a truck. Removable roof panels and fold-down windshield bring you closer to the elements with a full-open air experience. Get more excited for the Jeep Gladiator and continue reading!
Unique Features
We know that you have a lot to carry. The 2020 Jeep Gladiator has flexible storage to ensure you get all your tools, gear or toys where they need to go. The folding rear bench seat features a storage compartment that is lockable and waterproof. Along with this is an optional wireless speaker that is stowed behind the seat in a charging block.
Off-Road Prepared
Just because it's a truck doesn't mean it wasn't built with all the capabilities Jeep has to offer. A front sway bar that can be automatically disconnected from the push of a button allows the front wheels to drop and compress further, giving you an improved suspension articulation while tackling off-road terrain. The four-wheel drive system is also equipped with low, off-road rock crawling gear and high speed, low friction mode. From the mountains to the desert you'll be able to explore more and go further.
Attention to Detail
The added tailgate is damped and lowers slowly and be stopped in three positions. The five-foot bed has tie-down anchors as well as under-rail lighting. A front camera has been incorporated into the iconic Jeep grill to show you more of what you are navigating around.
The Jeep Gladiator is truly a unique truck like no other in its class. Wherever adventure leads you to, let the Jeep Gladiator take you there. The Gladiator has four unique trims, Sport, Sport S, Overland and the most extreme, the Rubicon. This truck seamlessly brings together modern technology with classic design. Join the Jeep family and check out all the 2020 Gladiator has to offer.